How to Get the Most Out of Your Critique or Proper Formatting Etiquette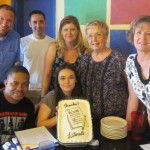 I love critique groups. And I have the best partnership going on with the coolest six people ever–the Literati. I'd like to share what we've learned over the last two years. What's worked for us and what hasn't. Let's start with format. As in your document, not your group!
I put this together to meet a need I have discovered in newer writers. I think this may help you get more out of your early critiques and help you edit other people's work as well.
It doesn't matter who is critiquing you, how short or long your document runs, or how experienced you or your critique partners become—proper format goes a long way to a lasting Edit Buddy relationship. You want to send out the cleanest, easiest to read version of your brilliance that you absolutely can.
There may be small disagreements on the the picky ends of format, but for the most part, these suggestions work well.
Here are some guidelines to follow.
A lot of these work for submissions as well.
See the bottom of this page for a detailed how to list.
As a rule, don't submit more than five double-spaced pages.
Editing eyes get tired!
Formatting Chapters:
12 point Times New Romans font (other font tires the eyes)
One space between paragraphs (single spacing)
Double space between lines
Only one space after a period (hit period/enter/type first word of new sentence)
Chapter number/title centered top of page
Begin two spaces down
Indent beginning of every paragraph (remember NO spaces in-between paragraphs)
First line special indent
Formatting Articles: 
12 point Times New Romans font
Two spaces between paragraphs (double spacing)
Single space between lines
Only one space after a period
Title left justified/Name left justified underneath (single space)
Begin Article two spaces down
No indenting  beginning of every paragraph (remember ONE space in-between paragraphs)
No first line special indent
How to List 
Get an em dash to look right.  (don't hit the space bar between any of this)
Ex: I walked—only not far.
Type the word (walked) then type 2 dashes then type your next word (only) and hit enter.
Ex: I walked—
Type the word (walked) then type 2 dashes and hit enter.
Change font in Word. It's easiest to format the document FIRST before you type.
Look at the top tab bar. Make sure you're on HOME. There will be a drop down box that will let you choose the font and point (size).
The Magic Paragraph Box. 
HOME tab. Find the Paragraph box right above the ruler on your document. There will be a blue arrow pointing up and a blue arrow pointing down. Click to the right of those on the black drop down arrow.  The following will go from this point.
To change spacing.
Choose 2.0 for double spacing and 1.0 for single spacing.
To change the rest.
Find Line Spacing Options under 3.0
Make sure alignment is set LEFT.
Find Indentation and then Special. Set it to First Line and 0.5"
Under Spacing, check the don't add space between paragraphs box.
Optional—to fit more lines on the page and not have the white space at the bottom if the whole paragraph doesn't fit, do the following under Line Spacing Options.
Under Line Spacing set it to Exactly At 25pt. Then click on the Line and Page Breaks tab back up at the top of that box and check Widows and Orphans.
Header.
Go to INSERT on top tab bar of Word. This is where you found HOME.
Find Header halfway across the page and click on the drop-down arrow.
Pick a header that will give you a right or left justified place for your name, title and page number.
Click Close Header Footer Box (it's on the far right in red)
If you need to change your page numbers, don't open the header and change them there or the same number will appear on every page.
To re-open header you can double click on the header.
On the top left, click on Page Number then Format Page Number.
A box will appear in the middle of your screen.
Change the number on the bottom of the box where it says start.
Click Okay and Close Header.
Hope this helps you! More on Critique Groups coming.