Surviving the Storm: Running Cancer's Maze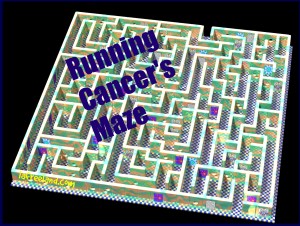 When the movie, The Maze Runner, hit Redbox, I rented the Blu-ray. Watching movies on our big screen is one of the few things we can still enjoy as a family since my oldest son, Kyle, relapsed with leukemia.
His aggressive chemo schedule ensures we don't take vacations or plan parties or participate in activities that don't involve spending major chunks of time sitting on cushy chairs. Living in a state of crisis has become our new norm. We're sadly ecstatic when life stays neutral. And planning any outings feels pointless when Cancer hijacks our schedule ninety-nine percent of the time.
Trying to survive cancer feels a lot like navigating an impossible maze. While we watched The Maze Runner, the story hit me right where I am—in the middle of my own journey as a Cancer Mom.
The movie goes something like this:
A group of boys CUT OFF from the rest of the world, and TRAPPED inside a giant maze, must BATTLE their way out of their prison if they want to survive. As each new member arrives, one new boy a month, he wakes CONFUSED as to how he got there or why he was CHOSEN. At the opening of the movie, the longest member has lived in the center of the maze, The Glade, for over three years. Three years of battling to learn basic survival skills. Three years of fighting to escape the maze. Three years of running an excruciating MARATHON in a race that seems without end.
What do The Maze Runner and cancer have in common?
CUT OFF. Cancer breeds isolation. Life narrows to a small circle. While the rest of the world spins around, unreachable, you're stuck on pause. In the midst of chemo, hospital admissions, and frequent health crisis, time becomes irrelevant.
No matter how hard you reach for your old life, you won't find it. The wall between cancer and normal stretches far too high. And as much as your friends and family love you and want to help, they're not trapped inside the cancer maze, so they will never completely understand your new world.
TRAPPED. Once the words, "You have cancer," are released, you can't shove them back. You can't run away. You can't escape your body. Cancer is an iron cuff that has no key. The restraint keeping you captive only dissolves when the disease disappears.
BATTLE. Every day is a battle. For life. For a future. For reasons to get out of bed. The struggles are physical and mental and spiritual. They affect every relationship you have.
CONFUSED. Waking up with a cancer diagnosis is like waking up in the middle of a maze with your memory erased. How did you get there? What did you do wrong? Was it the food you ate or the laundry detergent you used? Or maybe you made a bad life choice? Checked the wrong box?Accidentally prayed to understand suffering or patience or gain deep empathy?
A million why-did-this-happen-to-me scenarios won't change anything. You may never know why. Accepting your new life may be the hardest thing you do.
CHOSEN. No one picks the cancer card. In this case, the word chosen doesn't make you feel special, but it definitely sets you apart.
MARATHON. No matter how short or long the treatment, the battle wears who you are away. Like the boys running the maze, you're hungry, thirsty, terrified, mentally and physically exhausted, and all you want is wake up from this nightmare that you didn't choose and jump back into your real life.
A year into Kyle's second battle with leukemia, we can relate to the boys locked inside the maze. We're CUT OFF and TRAPPED in a world we didn't ask for. We fight a new BATTLE every day. We're often CONFUSED. We never asked to be CHOSEN. And this MARATHON is the single hardest thing we'll ever do.
There are days I hurt so much for Kyle, I don't crawl out of bed. There are hours where I can't stop crying. There are minutes when I've forgotten how to breathe. There are seconds I crave normal so badly my need turns into a physical ache.
It's in these moments my faith is tested, sometimes severely enough that I'm tempted to walk away. Write life off as random. Give up the beliefs I've held my entire life. Trust myself more than I trust God, because prayer doesn't seem to be working.
But I can't do any of those things.
I don't know why God allowed cancer to invade our family not once, but twice. I have no idea why we have to live with so much pain. I can't comprehend the way God has chosen to love us at this time.
But here is what I've learned:
1. It's my choice to go through Kyle's cancer with or without God. I've tried both ways. They are not equal.
2. The maze is lonely. As much as I'm frustrated and angry and hurt that God hasn't swooped in with a miracle, choosing to walk away from my faith leaves me feeling empty. All the time.
3. That bottomed-out, hole in my life when I choose to leave Him feels worse than any frustration I have with God and His choice to let us walk down cancer's path.
4. I may never know God's purpose. But either everything is random or He has a plan. I choose to believe He has a plan.
5. God's ideas and mine live in different planes. He never promised to take me from the situation or to take the situation from me. He promised to take care of me through it.
 Jeremiah 17:7-9 (NIV)
"But blessed is the one who trusts in the Lord,
whose confidence is in him.
They will be like a tree planted by the water
that sends out its roots by the stream.
It does not fear when heat comes;
its leaves are always green.
It has no worries in a year of drought
and never fails to bear fruit."
Not all of us will have to face cancer or a serious illness. But life is hard and the only guarantee we have is the certainty of trials. We'll run into situations that feel impossible and seem unfair and weigh us down. It's then that we have to make a decision about faith.
Will we cling to God's promises or will we go our own way?
Faith is a choice each of us has to make. I need to decide if I trust God's decisions for  my life and if I believe in what He's promised.
Cancer has taught me, without Him, I have nothing. I wither and waste away. I'm empty. With Him, I have hope. And hope is a miracle in itself. Hope is what gets me through the worst moments. Hope is the foundation for my faith.
Author's Note: Last year, my oldest son, Kyle, relapsed with leukemia, making me a two-time Cancer Mom. I'm sharing our journey not to ask for your pity, but for others who trudge this same road feeling isolated and alone. And for friends and family who watch the suffering and want to help, but don't know where to begin.
You can find the rest of the series here: Surviving the Storm