Surviving the Storm Series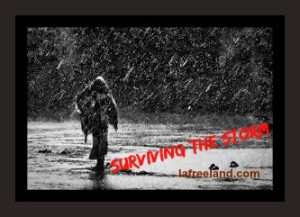 Last year, my oldest son relapsed with leukemia, making me a two-time Cancer Mom. 
I'm sharing our journey not to ask for your pity, but for others who trudge this same road feeling isolated and alone. And for friends and family who watch the suffering and want to help, but don't know where to begin.
Surviving the Storm Series:
Life is complicated.
Full of out-of-reach dreams and in-your-face commitments. We are busy with bosses and deadlines and spouses and kids and extended family obligations. Even time with friends doesn't always come baggage-free. READ MORE…

I wish I could pen an eloquent post, something thought-provoking and inspirational. I've started thirteen different drafts with thirteen different topics. I even downloaded some cool visual aids. But every time I try to finish this blog, my fingers freeze on the keys and all the energy I thought I had to put into some life-changing revelation drains away. READ MORE…
You Want Me to be Thankful for What? 
Cancer doesn't observe holidays.
Doesn't take a vacation.
Doesn't step away for a brief time-out.  READ MORE…
Shaken 
Faith feels easy when life is easy.
But what happens when life gets hard?
What happens when you're shaken? 

Trying to survive cancer feels a lot like navigating an impossible maze. While we watched The Maze Runner, the story hit me right where I am—in the middle of my own journey as a Cancer Mom. READ MORE…
Everything You Didn't Want to Know about Chemo
I forgot how ugly chemo can get.
Over the last six years, while my son stayed cancer-free, I pushed to the side the ugliness of our first battle with leukemia. Kind of like I shoved away the pain of childbirth after he was born. READ MORE…
I've been thinking a lot about blessings lately.
It's been a hard few years for our family. My son recently hit the twenty-month mark in his journey with leukemia. We're shuffling along slower than we were before cancer struck and forced him home from college to battle for his life. READ MORE…
When the World Expects More Than You Can Give
The sun is up. The house is still. The clock ticks off the morning until it's closer to lunchtime than to breakfast.
I'm in bed, covers over my head, curled around my body pillow, my cat asleep against me.
Not because I stayed up too late the night before or because it's my one morning to sleep in or because I haven't had a do-nothing day in weeks. I had one yesterday, the day before, and the day before that. My month has been packed solid with do-nothing days. READ MORE…